Shananigans ~ How Not to Respond to Being Caught Faking Something
So ooooooooo .....
I wrote
a post
a couple days ago calling out Dr. Cate Shanahan for her blatant misrepresentation of Ancel Keys and his part in the advocacy of a low fat diet. One could write volumes on the problems with Shanahan's
"
science
"
and ideas, but hopefully this overnight guru phenomenon -- because some minor celebrity shill kingmaker deems them so -- is on the outs. One can only hope.
The first image included in that post was this one below.
Figure in Deep Nutrition

I'm not even going to be distracted and "go there" as regards where Shanahan got her information charging Keys with selecting countries based on margarine use, except to say that she's awfully fast and loose with these sorts of assertions. It's not enough to just make things up, and while it may not be technically legal libel, it sure as heck runs afoul of the spirit of conduct in this regard.
Clearly Shanahan had to create these two plots, as I've never before seen them with cutesy heart symbols for data points. But how did she do that? Did she get the original data and put it into a graphing program? I've done that with small data sets -- I C&P the original to good old Paint, turn on the grid lines, play with the aspect/size a bit and its pretty easy to pick off reasonably accurate numbers. Heck, I just used the better quality (presumably accurate) version from Teicholz's book and C&P'd little pink hearts over the dots. I'm quite sure it's not perfect, but it's close.
No, Shanahan didn't do that, she just made up a bunch of points and put the graph in her book. I mean she didn't even accurately portray Keys' supposedly impeccable cherry-picking! There is no amount of aspect ratio and scaling that can turn the plot on the left into the one on the right; she's got Japan and Italy closer together on the horizontal axis, while Australia and Canada are now separated considerably.
Folks, this is actually a more serious issue than the misrepresentations of Taubes and his various plagiarizers. Shanahan put these figures in a book. Not some promo flyer or a blog post, or even some free ebook that you can download by signing up for someone's newsletter. No. A book that she explicitly copyrighted and sold/sells. The first issue is that there is NO attribution whatsoever for her plots. At the very least, there should be an "adapted from" and the original sources provided. But it should be clear to everyone that she didn't copy the plots and she didn't adapt them. No, she made them up. Her handiwork just happens to be so, so, very, very bad and obviously erroneous that there can be no doubt about this. Here again is her plot of the 22 (sic) countries juxtaposed with the original plot of the data from
Yerushalmy & Hilleboe
. The red vertical line is at approximately 25% fat for reference/comparison. I later numbered the countries (arbitrarily) on Shanahan's plot so as to make it easier for folks to see that her plot included a mystery 23rd country.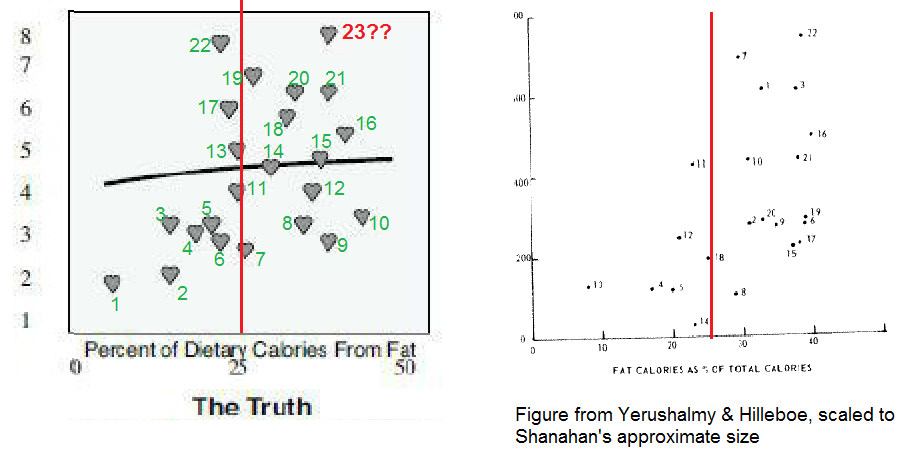 The second issue is that she usedthis fakery to level some pretty slanderous charges against Ancel Keys. If you're going to level charges of this nature, you should damned sure be able to back them up with solid evidence.
And now, before I bring you
Deep Hole Digging
by Dr. Cate Shananigan, I took the liberty of using the (again, presumed-to-be-accurate) version of the Y&H data from TBFS, and superimposing it on Shanahan's.
This should be not only embarrassing to the doctor, but should have her thinking about how best to correct the record while saving face.
Dr. Cate, as she likes to go by, took a different tack.
Our exchange is perhaps best followed on Twitter from
this link
(that's the problem with Twitter when others get involved and/or new "tweet streams" are created", I only include a link for posterity, I'll screenshot everything pertinent here).
Yep ... bring up Teicholz's nonsense and demonstrate off the bat that you haven't even read the criticism to which you are responding. Good start Dr. Cate!!
Note: The picture in the initial tweet in this part of the exchange is the side-by-side where I numbered her hearts, that I included above. Seriously?? If I were to have done something so half-assed (to be blunt) as Shanahan did with her plots, I'd take a pause and get my ducks in a row before responding further. Because she's claiming basically that she must have mistakenly plotted the two low points (between 20 & 30% on the Y&H plot) on her version and if she hadn't her case for "no correlation" is even stronger!! As you can see, I then pointed out to her that her plot contained 23 points -- to the best of my knowledge, there is no 23 Countries Study or data set out there. So yeah, if you migrated two of the hearts on her plot south to the locations of countries 8 and 14 on the Y&H plot, you'd get even more faked scatter. This is not a valid argument. Undeterred, Cate shot back with:
I had not as yet addressed Shanahan's "fit line". If anyone, not knowing what they were looking at, were to see the scatter at right and not see an upward trend, they have greater problems than I can address here. The scatter is obviously considerable, but quite often it is and it can appear far worse than this and still be statistically significant. Even Shanahan's plot as drawn does not justify her ridiculous horizontal arch there. Ultimately, she can't have it both ways. Either there is no correlation, in which case that line of hers should not be there, or there is one. Her inclusion of that trend line only adds to her deception because it implies that there is a correlation that is essentially a horizontal line.
Ahhh, but here it comes! Ya gotta love someone too stupid and full of themselves to even bother to vet their opponent!
Ahhh yes, I need to study statistics! LOL. I should call back when I understand linear regression. This is super rich coming from someone who seemingly can't even understand the basics of a scatter plot or the difference between no correlation and drawing a fit-line on a scatter plot. But she digs deeper. It's not like I didn't telegraph my position there -- the source of the data, that
Yerushalmy & Hilleboe paper
-- included extensive regression analyses. Clearly she didn't even read
The Big Fat Surprise
, even though referencing it was her first response. How stupid do you have to be to not take a breath when numbers don't add up? I don't care what the late Seth Roberts found regarding butter consumption and mathematical ability, of late there have been way more demonstrations of buttery ketones impairing the ability to add, and even the ability to count!
What Shanahan is claiming is that in his Seven Country's (sic) Study, Keys only picked Seven out of the now 23 countries for which data were available. This is a whole new level of imagination we're dealing with here. I don't know but if someone were challenging me, I'd be going back to double check my references and sources ... you know, just in case I might just be remembering incorrectly? No, not Cate!
The link is to the Y&H paper, and below is the image in the second tweet.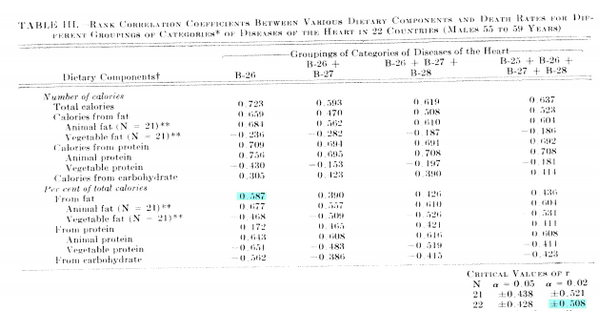 Keys only used B-26 "arteriosclerotic and degenerative heart disease" for his Six Country Plot, so the first column above is the relevant one.
A quick stats lesson on regression and correlation coefficient (r):
A positive correlation slopes up and to the right, as the x-variable increases, the y-variable increases as well
A negative correlation slopes down and to the right, as the x-variable increases, the y-variable decreases
The correlation coefficient, r, is a measure of the "fit" of a trend line and is calculated using the deviations of the data points from the value predicted by the line.
If r = ±1, this is a perfect correlation and each data point falls exactly on the line connecting them.
If r = 0, there is no correlation and no line is drawn
Both of the previous two situations rarely occur, but the closer the |r| is to 1, the better the fit.
The critical values (bottom right of the table) are determined for the degree of significance and the number of data points.
An r-value either greater than a positive r-crit, or less than a negative r-crit (e.g. closer to +1 or -1 respectively) denotes a statistically significant correlation for a given significance level (α).
Y&H had 22 values for their analysis of B-26 mortality rate vs. % calories from fat data. The correlation coefficient for this regression was 0.587 while the r-crit for α = 0.02 (98% confidence level) was 0.508. Therefore, the correlation between the proportion of calories as fat in the diet and death from ateriosclerotic and degenerative heart disease reached the level of statistical significance. I'd encourage reading that paper, it's interesting even if such correlations do not imply causality. Moreso than demolishing whatever correlation Keys sought to demonstrate in his plot, Y&H stressed that there were even more tightly correlated -- "specific" -- variables than % calories from fat. The percent calories as animal protein had an r = 0.643, and % as animal fat is even worse at r = 0.677 (though n=21 so not directly comparable). It gets worse for the Shanahans of this world. Notice the negative signs next to the values for percents of calories from veggie fat, veggie protein and carbohydrate. This denotes a decrease in mortality vs. increasing percentage of dietary calories, and the latter two reach statistical significance for the negative correlation. To repeat, percent carbohydrate in the diet was significantly correlated in negative fashion to B-26 heart disease in the 22 countries. The greater the percentage of calories as carbohydrate, the lower the B-26 mortality.
No further word yet from Shanahan today.
Perhaps someone finally did take away her shovel.
Her appearance at AHS12 was an utter embarrassment. She's slotted to speak again this year. Any impression that AHS is the academic arm or the more scholarly symposium in that community is a total farce at this point.
One can listen for a couple of minutes from about the 29:30 mark of this video. Just before this Chris Kresser cites peer review literature outlining the content of the Okinawan diet. She just doesn't believe it. "I'm sure you have a good reason to say what you said", she says with a smile.
I would hope you have good reason to say what you said in your book Dr. Shanahan. I just can't seem to find it.