Cholesterol or Inflammation?
I wanted to share this study with my blog readers that I had found and shared a bit of on Twitter a little while ago. This has been prompted by ongoing discussions there and elsewhere on social media regarding blood lipids. By "cholesterol" I am of course using the general term that in today's terms refers mostly to the low density lipoproteins or LDL.
A Simple Test to Help Predict Risk of Heart Attack and Stroke
This is not so much a study as a communication. It is also on the "Cardiology Patient Page" of the journal
Circulation
, and as such quite readable. I'd suggest any and all interested do so as I don't really have the time to go in depth into the entire thing.
A key issue with the Jimmy Moore/Eric Westman book
Cholesterol Clarity
, that has been exhumed once again by Nina Teicholz, and even a Peter Attia appearance on the Dr. Oz show, is the Ronald Krauss driven idea that LDL-C doesn't matter, it's the particle size. Over the years I've heard "large fluffy" LDL described as anything from not-as-bad (Krauss' current descriptive) to protective, where the latter designation is clearly erroneous. It is fairly widely accepted that particle
number
is an important predictor, and the issue of particle size comes in when you have normal concentration carried by a large number of particles (bad) vs. slightly high concentration but carried by a small number of large particles (not so bad). Thomas Dayspring and others have made it clear that when your cholesterol is very high, size doesn't matter and all the fancy testing is unnecessary -- you are at higher risk. I discussed this here:
When Size Matters (and when it doesn't)
.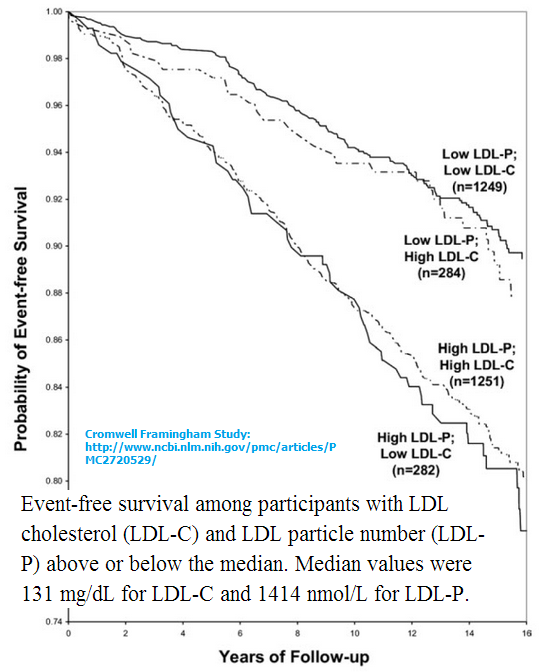 Here's the pretty famous image demonstrating this. Note that Low vs. High designations are for below or above the median, and sadly many insisting that LDL is entirely meaningless often fall quite well above the median -- like up in the 90-some percentiles!
Another buzzword that has taken hold in the IHC is inflammation. What is inflammation? Is it a physical manifestation, or is it some markers that have been designated under what has become a rather broad term? It is a common mantra these days to dismiss all potential bad-news-LDL on the basis of "I have no inflammation so it won't rupture". I'm can't help but think of Dreamfields pasta and all the low carbers who would consume it when the manufacturer told them it had carbs in it, they were just "protected". Consumers were given specific cooking instructions (hope you like your pasta al dente!) and to cook only what you planned to eat right then. Reheating is out of the question. I don't know about you, but I'd rather not eat the carbs in the first place than worry over whether they would be released in my digestive tract, and I pretty much feel the same way about atherosclerotic plaques. No, that the Masai had them and didn't have high incidence of heart attacks is of no relevance here ... unless you are a Masai living the warrior lifestyle.
The gold-standard measure of inflammation at the current time is C-reactive protein or CRP for short. In some studies CRP is improved with low carb, in others, like the one blogged on
here
, it is increased. Still, there's a false sense of security being established out there by the advocates of low carb diets, that so long as CRP is low, everything is A-OK. Mind you, the best you'll get from an expert if you corner them is "well we really don't know" -- but this hasn't stopped folks like Jimmy Moore from making wild health claims regarding their stellar lipids (I can think of another term deriving from stars that is more appropriate). It is one thing if he, or you or anyone else wants to take a risk based on the evidence in hand. It is quite another to be making these claims and the words I'd use to describe this range from irresponsible to downright criminal. Always keep in mind that anyone can say pretty much anything in a book these days so long as they put a medical disclaimer in there. There is no filter, and even esteemed publishing houses see fit to publish anything without technical or factual review.
So, the paper:
Why Do I Need Both CRP and Cholesterol Measured?



Both cholesterol and CRP predict risk, but you cannot predict your CRP level on the basis of your cholesterol level (or vice versa). That is because each of these blood tests picks up a different component of the disease process. This independent and additive effect is demonstrated in Figure 1, which shows cardiovascular event-free survival for initially healthy individuals according to levels of both CRP and the so-called "bad cholesterol" or LDL cholesterol.
The article goes on to discuss how CRP is a better single predictor. Consider this, however. This is "at baseline", not from birth. So what this may well indicate is that the inflammation follows the buildup (and that makes common sense). In other words, those with high CRP at baseline were already in the early stages of disease manifestation so it is no wonder they were more likely to develop advanced disease. It would be very interesting to see such an analysis with particle numbers instead of just the LDL-C if such data is available.
But clearly, the Low CRP/High LDL are pretty close to the High CRP/Low LDL right there in the middle of the pack. This is "high" as in above the middle, not as in some of the familial hypercholesterolemia-like LDL levels some sport proudly. It is not a stretch to consider that such a line for those types might end somewhere in the lower quarter of this graph.
To me the bottom line is that we are in uncharted territory with the lipids produced on extreme diets -- and anything much over say 40-45% fat in content is pretty extreme for the vast, vast, vast majority of humans on the planet. I don't think it is scare mongering to point this out and caution my readers about the health advice being doled out in low carb circles.